Details
Positions 1956
An Instructional Opera in Three Parts
Libretto by Michael Korie
Inspired by Instructional Manuals of the 1950's
COMMISSIONED: By UrbanArias, Washington DC
PREMIERE: April 2012, the Artisphere Theater; conductor, Robert Wood; director, Noah Himmelstein; The Bride, Amedee Moore; The Groom, Jesse Blumberg; The Trainer/The Instructor, Vale Rideout
DURATION: 90 minutes
PUBLISHER: All Conrad Cummings works are self-published; contact him here.
INSTRUMENTATION: violin, cello, woodwind doubler (flute, clarinet, bass clarinet, soprano sax, tenor sax)(alternately two woodwind players), and keyboard
CAST OF CHARACTERS:
The Bride, soprano
The Groom, baritone
The Trainer/The Instructor, tenor
Excerpt: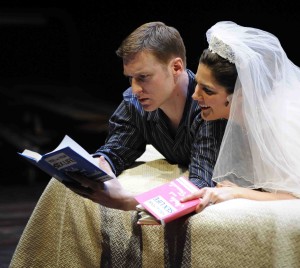 Program Note
STORY & SETTING
"Positions 1956" explores the "positions" both sexual and societal of the mid-1950s as a newlywed Bride and Groom educate themselves with instructional manuals.
Part One, "Marriage Manual," is set in a bedroom over the first few months of the Bride and Groom's marriage as they explore positions and begin to learn about each other.
Part Two, "Physique," is set in a gym where the Groom goes to a Trainer to receive a course in physical fitness based on exercises from 1950s men's physique magazines.
Part Three, "Social Dancing," is set in a dance studio where the Bride and Groom learn how to dance from an Instructor using methods from "How to Dance" manuals of the 1950s.
 
 
PRODUCTION REQUIREMENTS
"Marriage Manual" requires a double bed, night tables and two lamps. In "Physique," the bed is replaced with a gym mat, a bench, a stool, and a few weights. "Social Dancing" is set on a bare stage set up to look like a dance studio.
To support the "instructional manual" core on which the opera hinges, the chapter headings of each of the marital positions, exercises, and dances are projected in a visible manner, e.g. on the wall behind the bed, the gymnasium and the dance studio.
The opera features three principal singers accompanied by an instrumental quartet: violin, cello, woodwind and synthesizer. There are no pauses between the three parts of the opera. The few set changes are expedited in view of the audience.
Perusal Materials
Download the complete score:
Download the complete libretto:
Complete audio:
Part 1: Marriage Manual
Part 2: Physique
Part 3: Social Dancing