Details
The Golden Gate
Opera in Two Acts
Libretto from the novel-in-verse by Vikram Seth adapted by the composer
DEVELOPMENT PARTNERS: American Opera Projects and Lively Works
STAGED WORKSHOP: January 10-12, 2010; New York City; Rose Studio at Lincoln Center; Steven Osgood, conductor; John Henry Davis, stage direction
DURATION: 100' (two hours including a twenty-minute intermission)
PUBLISHER: All Conrad Cummings works are self-published; contact him here
DEDICATED WEBSITE: www.thegoldengateopera.com
INSTRUMENTATION: 17-piece chamber orchestra, 1 fl, 1 ob, 1 cl, 1 bsn, 1 tpt, 1 hrn, 2 keyboard players (on piano, celeste, and synthesizer), 2 percussionists (on vibes, marimba, glock, drum set, percussion), 1 hp, 1 guitarist on acoustic and electric guitars, 2 vln, 1 vla, 1 vlc, 1 bs
CAST OF CHARACTERS
Liz – soprano | Jan – mezzo-soprano
Ed – tenor | John – baritone | Phil – bass
Paul – speaking role for child actor
STAGED WORKSHOP CAST:
Liz – Katrina Thurman
Jan – Hai-Ting Chinn
Ed – Keith Jameson
John – David Adam Moore
Phil – Kevin Burdette
Excerpt from the staged workshop:
Program Note
THE GOLDEN GATE, Vikram Seth's best-selling novel-in-verse, awakens the vivid memories I have of my home town and reminds me acutely of the romantic adventures of my younger life. Boys with girls, boys with boys, it's all there, along with the exhilaration and the heartbreak. Seth's verse makes these experiences sing; I've tried to capture in music their unique mixture of pathos and humor.
Conductor Steven Osgood has guided The Golden Gate from the very beginning and continues to be its sharpest and most valuable critic. Director John Henry Davis has provided crucial dramaturgical guidance, and producer Emma Lively has kept the project on track in myriad ways. Mark Adamo, Mark Campbell, Ned Canty, Gregory Fulkerson, Michael Korie, Gordon Ostrowski, Tobias Picker, Marc A. Scorca, and Darren K. Woods  have all given generously of their time, advice, and support, while American Opera Projects and its Executive Director Charles Jarden have provided invaluable development support at every step.
–Conrad Cummings
Videos
Complete three-camera video of staged workshop:
Ten minute highlights video:
Scene and Aria "Think of yourself (Act I scene 1):
Telegraph Hill Duet "The night is cold" (Act I scene 1):
Ed and Phil: "I'm plastered" (Act I scene 2):
Aria "John is smiling, and Jan is not" (Act II scene 1):
Scene and Aria "Jan's absent" (Act II scene 2):
Finale "Once upon a time" Act II scene 3):
Synopsis
OVERVIEW
Five twenty-somethings experience love, life, and loss in the magical and innocent San Francisco of the early 1980's. JOHN (baritone), handsome and successful, will discover too late the price of  his emotional detachment. He meets LIZ (soprano) through a personals ad placed by his former college girlfriend JAN (mezzo), a sculptor and punk rock drummer. Meanwhile, John's best friend from college PHIL (bass), reeling from a divorce which has left him the single parent of six-year-old PAUL (spoken role), begins a passionate relationship with ED (tenor), Liz's younger brother. Couples come apart; new couples form, families are created, friendships are severed. And a tragic death leads John, always the outsider, to the possibility of a deeper connection and a warmer life.
CHARACTERS
John Brown (baritone) is a handsome, athletic, and somewhat stiff twenty-six-year old whose career as a software engineer at a nuclear weapons lab is thriving but whose personal life seems empty even to him. His one close friend is his former girlfriend from college –
Janet Hayakawa (mezzo), a sculptor by day and a drummer in a punk rock band by night. Janet places a personals ad on John's behalf, through which John meets and falls in love with –
Liz Dorati (soprano), a recent graduate of Stanford Law School and a prized associate at the staid law firm of Cobb & Kearny. Liz grew up on a working vineyard in the Sonoma Valley with her younger brother –
Ed Dorati (tenor), who is fresh out of college and works for an advertising agency. Though both Liz and Ed were raised Catholic, Liz finds Ed's devotion to Church dogma perplexing. Ed finds himself intensely attracted to –
Philip Weiss (bass), John's college roommate. Relations have been tense between John and Phil since Phil quit his engineering job to become an anti-nuclear activist. Phil is reeling from a recent divorce (from the absent Claire) that has left him the single parent of six-year-old –
Paul Weiss (speaking role).
DETAILED SYNOPSIS
ACT I scene 1
1. Introduction – "Once upon a time"
John – young, handsome, successful, and lonely – walks through Golden Gate Park trying to understand the source of his sadness.
2. Scene and Aria – "Think of yourself"
John meets his ex-girlfriend Jan at a bustling Chinese restaurant.
Jan, a sculptor and punk-rock drummer, writes a personals ad for John through which he meets Liz, a young lawyer.
3. Telegraph Hill Duet – "The night is cold"
John and Liz share a romantic moment atop Telegraph Hill.
ACT I scene 2
4. Park Scene – "Dad, get a spider for us as a pet"
Phil, John's college roommate, and his six-year-old son Paul play on a golden California hillside, but Paul cries at the mention of his mom, Phil's ex-wife.
5. The Concert – "I've got tickets"
Liz and John meet Phil and Paul at a string quartet concert.
6. Aria – "The lights have dimmed"
Phil and his son are consoled by the Brahms A-minor quartet.
7. The Party – "So much for the Vivaldi"
Phil is a guest at John and Liz's housewarming party, where Jan's band provides the entertainment. Liz's younger brother Ed sees Phil and is immediately smitten.
8. Ed and Phil – "I'm plastered"
Ed and Phil go home together and, after agonizing soul searching, have sex.
ACT 1 scene 3
9. Aria and Duet – "How wonderful it is"
Liz and John wake to a peaceful morning. Ed reveals his religious conflicts over his relationship with Phil. Liz's cat torments John. Liz meets Phil at an anti-nuclear-weapons demonstration. That night, John tries to defuse the tension he and Liz have increasingly been feeling and proposes marriage to her.
10. The Fight – "Coffee?"
Phil reaches his limit in dealing with Ed's sexual ambivalence, and they have a violent fight.
11. Scene and Finale – "Ed's the man"
John is horrified to learn of Phil and Ed's relationship. Liz and Phil drive together to the Marina. The fog clears, revealing the Golden Gate Bridge. All five see it from their different emotional perspectives.
ACT II scene 1
12. The Wedding – "The clapboard church"
A wedding has just taken place; Jan and Ed greet guests, but where are bride and groom? Liz and Phil enter, they are the newlyweds. John buries his pain in work and singles bars.
13. The Disco – "In San Francisco's snowless winter"
Jan finds John in a singles bar and takes him to the Cafe Trieste. Over coffee she struggles with her conflicted feelings about him.
ACT II scene 2
14. John and Jan – "John's nights are free"
John's mood lightens in Jan's company, but he rejects all overtures of reconciliation from Liz and Phil. A cancelled gig allows Jan to cook dinner for John.
15. Love Duet – "He sleeps, his cheek against her breast"
John and Jan reconnect in passionate lovemaking and spend easy days in each other's company. Jan invites Phil and Liz to a party at her studio in hopes of mending the breach between John and his erstwhile friends.
16. Scene and Aria – "Jan's absent"
Jan is late to her own party; John is increasingly irritated. He shuns Liz and Phil when they arrive. The phone rings; it's the police. All are shocked to learn that Jan has been killed in a car accident.
ACT II scene 3
17. Hospital Aria – "The other driver"
John is consumed with grief and remorse and sinks ever deeper into isolation. He reads a note from Liz and Phil asking him to be the godfather of their new baby.
18. Aria – "It's dark, it's late November"
John's torment takes him into the nighttime streets of San Francisco. At daybreak John finds himself at the bay, and sees Liz, Phil, Ed and the new baby watching Paul fly a kite.
19. Finale – "Once upon a time"
Paul's kite falls at John's feet, and Paul runs to him. John stands, frozen in indecision; Paul returns to the embrace of his family. All celebrate the bay and the bridge arching over it. Slowly and with great effort, John begins to walk toward his friends.
Orchestration
From conductor Steven Osgood's program note for the January 2010 staged workshop:
The score to The Golden Gate unfolds in a series of sometimes very short scenes and numbers, always with an emphasis on textual clarity, in a form and shape that are closest to Baroque opera. The make-up of the 17-piece orchestra will match this Baroque structure with a continuo group that includes piano, synthesizer and celeste, as well as acoustic and electric guitars; a melodic group of string quintet, four winds and two brass players; and a percussion group that will move from one extreme of Jan's punk rock band, to spacious, ringing evocation of San Francisco's nighttime sky and expansive vistas. It is an instrumental ensemble that will be able to ebb and flow like Monteverdi at one moment, sparkle like Henze at the next, and then crash and drive like Black Flag. It is a score that I imagine conducting from one of the continuo keyboards, in which each of the instrumentalists is a character in the drama. Tantalizing. Yes, very tantalizing.
Live recordings from the orchestration workshop at Merkin Concert Hall, November 18, 2011:
Act One Scene One (15′)

Act One Scene Two (first half) (11′)

Act One Scene Three (opening aria and duet)  (3′)

Conductor – Steven Osgood
Liz – Katrina Thurman
Jan – Hai-Ting Chinn
Ed – Keith Jameson
John – David Adam Moore
Phil – Justin Hopkins
Lyric Novel
How does an acclaimed novel-in-verse become a new opera? A multimedia presentation by Stanford Arts Institute at Bing Concert Hall, Stanford University, May 30, 2013.
The presentation begins with a video welcome by author (and former Stegner Fellow and Stanford student) Vikram Seth, followed by readings of passages from the novel-in-verse by current Stegner Fellows and Stanford students intercut with video of parallel scenes from the opera. Commentary from Cummings weaves together spoken and sung words with candid reflections on the choices made in transforming Seth's verse into sung drama.
For a condensed version of the event:
And the full-length video:
Press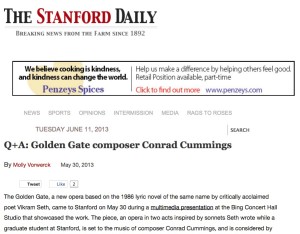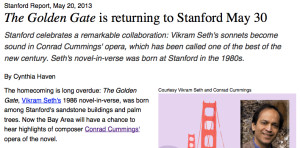 Perusal Materials
Download a perusal copy of the complete piano-vocal score

Download a perusal copy of the complete orchestra score
Download a perusal copy of the complete libretto
Complete video of the staged workshop:
Complete audio of the staged workshop:
Act I:

Act II:

Excerpts from the live recording of the orchestration workshop at Merkin Concert Hall, November 18, 2011:
Act One Scene One (15′)

Act One Scene Two (first half) (11′)

Act One Scene Three (opening aria and duet)  (3′)

Arias
Darren K. Woods, General Director of Fort Worth Opera, had a great suggestion: make five audition arias from The Golden Gate, one for each voice type. Here they are. Singers, please feel free to try them out!
"A Month Has Passed" for soprano and piano
"So There They Sit" for mezzo and piano
"They Park the Car by the Marina" for tenor and piano
"How Beautiful It Is" for baritone and piano
"The Lights Have Dimmed" for bass and piano